Andy Schumm and His Gang to present the music and history of the incomparable Bix Beiderbecke for the Central Ohio Hot Jazz Society
...As leading interpreters, cornetist Andy Schumm and His Gang arrive from the 1920s & '30s jazz haven, Chicago, to present a tribute to the legendary musician who, most authorities say, was the "greatest hot cornet player and most inspired jazz musician of his time".
Band Personnel:
Andy Schumm - cornet
John Otto - clarinet/alto sax
Dave Bock - trombone
Jim Dapogny - piano
Rod McDonald - guitar/banjo
Beau Sample - bass
A video preview!
Sunday, March 27, 2011
2:00pm-5:00pm
The Burgundy Room at The Makoy Center
5462 Center Street
Hilliard, OH 43026
Tickets
Sold at the door only.
$20 - Non Members
$15 - Members
$10 - Students and Dance Club Members
Free admission to those 18 or younger accompanied by a paying adult.
Music Educators free when accompanying students (more info)
More about the band members:



Andy Schumm
Andy Schumm is willing to do whatever it takes to play the good stuff.
Born in Milwaukee, Wisconsin, Andy began taking piano lessons when he was 6 years old. He dabbled as a trumpet player in grade school and high school until he found his true passion for jazz while studying with Mike Plog, a well-known modern jazz trumpeter. At the University of Illinois, Andy studied trumpet and cornet with Tito Carrillo and began arranging under the tutelage of program director Chip McNeill.
His fate as a '20s musician was sealed one night after hearing Bix Beiderbecke's transcendent recording of "At the Jazz Band Ball" on an authentic Victor horn machine. Andy started sitting in with Dixieland bands and, ironically, discovered that he could get more work as a '20s musician than a modern player – yeah, man! While he is heavily influenced by Bix, Andy draws inspiration from a variety of musicians including Red Nichols, Jelly Roll Morton, King Oliver, Jabbo Smith and Tommy Dorsey (especially in his covert recordings as a trumpeter!). He also enjoys listening to Johnny Dodds and Herb Morand.
Andy is currently a full-time musician traveling the world and touring with various groups. One such group is the Archipelago Project which is a non-profit educational outreach group advocating musical arts for young students and their teachers through performance, residency and consultation.

John Otto
JOHN OTTO, reedman extraordinaire, is a full-time jobbing musician and piano technician who has performed and recorded with many well-known bands all over the country.
John's mother was a soloist in church music, musicals, weddings and an accomplished jobbing musician herself. His dad played trombone for fun and liked listening to big bands in the late 1930s. He had swing and jazz records collected in the closet, which John found most enticing upon discovery at a very early age.
John started learning piano in grade school and changed to clarinet upon entrance into junior high school. In high school, his musical mentor was Wellington Schiller, a full-time musician and teacher. Wellington would loan John his Red Nichols records, which had quite a profound impact on him by grooming his ear for melody and rhythm. Some additional instruction from the late well-known Carmen Dello helped set him up for success.
John's first job was working in Bolingbrook, Illinois, at an amusement park called Old Chicago (an enclosed shopping mall with circus bands and traveling acts such as vaudeville shows) while in high school, but he quit to enroll in college. Although John can play great jazz in many forms on clarinet and saxophone, his abilities in the hot dance category are supreme. Some of John's recent work has been subbing with the St. Louis Ragtimers, though you will find him about Chicago and its surrounding 'burbs playing jazz, swing, Dixieland AND hot dance.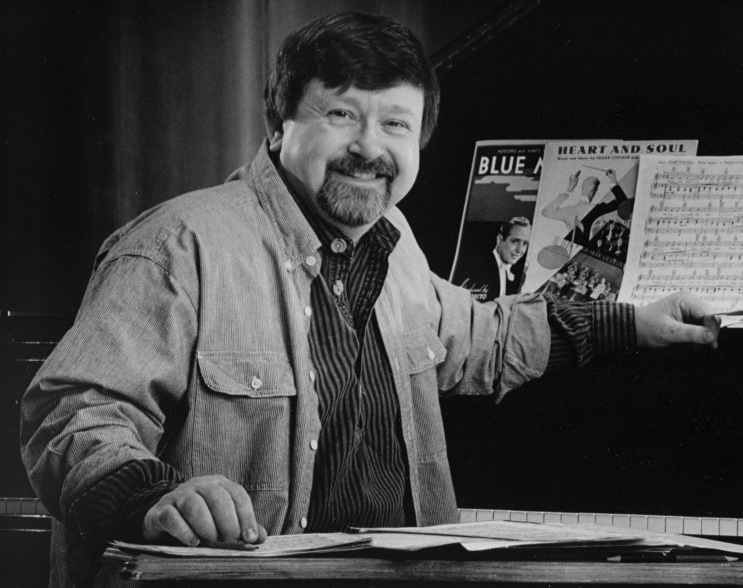 Jim Dapogny
Jim Dapogny - The stride and swing piano tradition of the early 20th century is preserved through the playing of pianist and musicologist James Dapogny. Together with his small combo, the Chicago Jazz Band Dapogny has recorded seven albums of ragtime, New Orleans and Chicago jazz, and small-band swing. The band has made semi-regular appearances on National Public Radio's "A Prairie Home Companion," and has been featured on albums by the Andrews Sisters-like trio Chenille Sisters and late jazz-blues pianist Sippie Wallace. Deeply influenced by the piano playing of Jelly Roll Morton (1890-1941), Dapogny wrote the liner notes for a series of Morton's recordings issued by the Library of Congress and Rounder Records and edited the scholarly book Ferdinand "Jelly Roll" Morton: The Collected Piano Music, published by Schirmer, Inc.. Dapogny has recorded two albums -- Laughing at Life and Original Jelly Roll Blues -- featuring his interpretations of Morton's music. The holder of a doctorate of musical arts in composition, Dapogny has taught at the University of Michigan since 1966. He received a faculty recognition award and Thurnau professorship for outstanding teaching in 1982. Dapogny has served as an editor and editorial board member for Jazz Masterworks Editions, a collaborative project of Oberlin College and the Smithsonian Institute.